BBC apologises for Japanese atomic bomb jokes on QI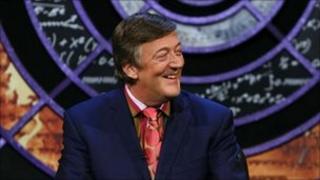 The BBC has apologised after Japan's embassy complained over jokes on an episode of TV comedy quiz show QI.
Panellists made light of the experience of Tsutomu Yamaguchi who survived the Hiroshima atomic bomb in World War II and the Nagasaki one three days later.
Presenter Stephen Fry described him as "the unluckiest man in the world".
The BBC said it was sorry for any offence caused and would be replying shortly to a letter received from the Japanese embassy in London.
A spokesman for the corporation added: "QI never sets out to cause offence with any of the people or subjects it covers. However on this occasion, given the sensitivity of the subject matter for Japanese viewers, we understand why they did not feel it appropriate for inclusion in the programme."
A joint statement of apology was issued with Talkback Thames, the production company which makes QI.
Japanese viewers reportedly contacted diplomatic staff after the programme, featuring comedians Alan Davies and Rob Brydon as panellists, was broadcast on BBC One on 17 December.
More than 200,000 Japanese people are believed to have died in the atomic bombings on Hiroshima and Nagasaki in August 1945.
Mr Yamaguchi, who died last year at the age of 93, is the only person to have been recognised by the Japanese government as having survived both.