Junk shop artist Haroon Mirza wins £16,500 prize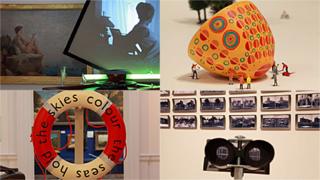 An artist who scours junk shops and eBay for items to use in his exhibitions has scooped £16,500 as winner of the Northern Art Prize.
Haroon Mirza's winning installation combined second-hand record players and radios with sound art, projection and a 19th Century painting.
The award was established four years ago to showcase contemporary artists working in the north of England.
Mirza, 33, based in Sheffield, accepted the prize at Leeds Art Gallery.
Writer and broadcaster Mark Lawson, who was among the judges, said Mirza produces "original and immediate pieces that create strange and startling sounds through a combination of new and old technologies".
The installation, Anthemoessa, takes its name from the island in Greek mythology where Sirens would lure unsuspecting sailors to their deaths with a beautiful song.
The vintage radios and record players, found on eBay or in junk shops, are placed alongside projected film clips and Edward Armitage's 1888 painting The Siren, accompanied by distorted musical sounds.
"It's about calling, and the calling to one's demise," Mirza said. "It's either a religious calling, which is a call to prayer, and then there's Sirens calling, which is a call to death."
"Putting those two things in juxtaposition questions the meaning of both things."
The other shortlisted artists were Alec Finlay, Lubaina Himid and David Jacques. Work by all four nominated artists is on display at Leeds Art Gallery until 6 February.