Waterstone's unveils debut authors book list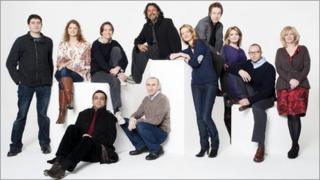 An ex-Holby City actress and the Daily Telegraph's former literary editor are among debut authors tipped for success this year by book chain Waterstone's.
Sarah Winman, who has also appeared in Silent Witness, and journalist Sam Leith are two of the writers on the first Waterstone's 11 list.
Pigeon English by Stephen Kelman, the subject of offers from 12 leading publishers, is also cited.
All the books, chosen from a 100-strong longlist, are due out this year.
Dominic Myers, Waterstone's managing director, said the list comprised "one of the most exciting and remarkable collections of debut novels I've seen in my career".
Winman's book, When God was a Rabbit, is described by its author as "a family saga about what keeps families together and about being able to start again".
"I've always been writing, but it is in the last five years I started writing novels," said the 46-year-old.
Writing, she added, came out of her experience as an actress. "I was surrounded by scripts and I was surrounded by words," she said.
Authors on the list - unveiled at Waterstone's Piccadilly store in central London on Thursday - hail from all around the world.
Shehan Karunatilaka is Sri Lankan, David Bezmozgis is Latvian, while Sophie Hardach's The Registrar's Manual for Detecting Forced Marriages is set in her native Germany.
Kelman's novel, the story of a boy living on a deprived London estate who falls into crime, sparked a bidding war that earned him a six-figure advance and a two-book deal with Bloomsbury.
Extracts from the 11 works will be published in a limited edition book ahead of their individual release dates.