Ricky Gervais to make cameo in US version of The Office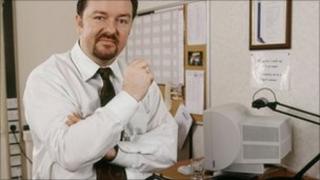 Comedian Ricky Gervais is to reprise his David Brent character from The Office on the US version of the show.
Gervais, who attracted controversy on Sunday as host of the Golden Globes, will make a brief appearance as Brent on 27 January.
Co-created by Gervais and Stephen Merchant, The Office was a hit in the UK before it was remade in the US by NBC.
Steve Carell plays Brent's counterpart in the US version, Michael Scott.
Gervais, 49, is an executive producer on The Office, now in its seventh series.
The British original ran for two series before signing off with two Christmas specials.
Charlie Sheen, Bruce Willis and Robert Downey Jr were among the celebrities Gervais poked fun at during his controversial second stint as Golden Globes host.
Yet in an interview on Piers Morgan's CNN chat show, to be shown in the US on Thursday, Gervais is unrepentant.
"It's not my job to worry about what people think of me," he will be heard saying. "That's the job of a politician.
"They hired me for a job," he continues. "If they didn't want me, they shouldn't have hired me."