Ron Howard defends 'gay' jibe in new film The Dilemma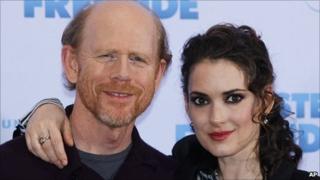 Ron Howard, director of family friendly fare like Splash, Parenthood and Cocoon, has returned to comedy-drama with his new film The Dilemma.
The Oscar winner has been thrown into a battle with US gay rights groups and forced to defend the freedom of artistic speech over a scene in the movie's trailer.
It sees best friends and business partners Ronny and Nick, played by Vince Vaughan and US TV comic Kevin James, attempting to market a new kind of electric engine which will feel and sound like a petrol-powered beast.
Its selling point, as Vaughan points out, is that the electric cars currently look and sound "gay".
He supports his ruminations with a power-point presentation displaying some handy pictures of small effeminate dogs wearing pink ruffles.
"I was surprised because it shows up on television all the time, it's part of American slang and used with a non-sexual connotation," explains Howard.
"But then I thought about it and realised it was really being called into question out of context and based on advertising materials."
Marketing tool
The scene was condemned by the Gay and Lesbian Alliance Against Defamation (Glaad) who had support from CNN journalist Anderson Cooper, who told TV host Ellen Degeneres that it was "unacceptable".
"I was not going to take it out of the movie because I thought it informs a lot about the character and the fact that he is willing to say inappropriate things and make inappropriate choices and we have everybody reacting to it and that is what's funny about it," says Howard.
However, the 56-year-old appears to agree that the scene's controversial inclusion in the film's trailer may not have the desired comedic effect.
"A piece of marketing is a different thing, no-one paid their money to see it, no-one turned the channel to see it, they're not trusting in a storyteller's aesthetic.
"It's just thrust upon them and it is a significant issue. I understood people using the opportunity to make a point and the studio wanting to remove it, but as it related to the movie, I also didn't feel it was appropriate to take it out."
The film sees Vaughn's character grappling with the dilemma of whether of not to tell his best friend that his wife, played by Winona Ryder, has been cheating on him with a young tattooed himbo.
Adding to the conundrum is the fact that his pal has been working flat out to seal a lucrative deal with a motor company.
The idea came up during an after-dinner conversation in Rome, while promoting Howard's film Angels and Demons - the prequel to Dan Brown's Da Vinci Code.
Brian Grazer - Howard's partner in Imagine Entertainment - posed the question of whether to tell or not to tell.
"The conversation would not end, all the way through main course and on into dessert," recalls Howard.
"Real characters"
The idea was pitched to Wedding Crashers and Old School star Vince Vaughn, who expressed an interest in playing the main role and came on board as a co-producer.
If the rest of the world operates between levels one and ten on the dial, Vaughn's on-screen performances can often average at around the 11 mark in terms of sheer manic energy.
But Howard insists that keeping his star in check was not a problem, thanks in part to a script which he said "took its serious parts seriously".
"It wasn't just a joke-fest, these were real flesh and blood characters," he says.
"We found the comedy highs got higher, the more honestly we were dealing with the uncomfortable moments in the movie".
"This was a movie in which we didn't want to ignore the pain but we didn't want to ignore the possibilities of those outsized comedic situations."
Aside from The Dilemma, Howard says plans to adapt Dan Brown's third book in the Da Vinci series, The Lost Symbol, are still "at a very early stage".
He directed the two previous films, starring Tom Hanks as Professor Robert Langdon, who is in talks to reprise his role.
A major change for the film-makers is the departure of Oscar-winning screenwriter Akiva Goldsman. Instead, Brown will adapt his own book for the big screen.
Howard says: "Dan is a very creative guy and knows that it's going to require some adaptation. I'm looking forward to seeing where it goes."
Howard also admits he is in the dark about plans for the long-awaited Arrested Development movie.
The award-winning US sitcom, starring Jason Bateman, Will Arnett and Michael Cera, told the story of the formerly-wealthy yet hugely dysfunctional Bluth family.
Howard executive-produced the show and acted as its narrator. Creator Mitchell Hurwitz has apparently began work on a film script, with the cast expected to reprise their roles.
"I'm getting to be a little bit like everyone else, I'll believe it when I see it," says Howard. "I keep talking to Mitch Hurwitz and the other actors and there's a real desire on the creative team's part to do it.
"They want to do it right but I really believe it will happen."
The Dilemma is in UK cinemas now.