Made in Dagenham overlooked by Bafta, claims actress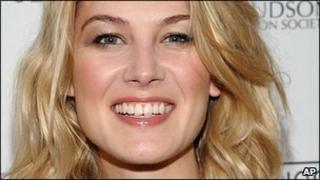 British film Made in Dagenham has been overlooked by Bafta in favour of US movies, one of its stars has claimed.
The film, about women battling for equal pay in the 1960s, received four Bafta nominations on Tuesday, including one for outstanding British film.
According to actress Rosamund Pike, however, American films secured more nominations because Bafta voters were more likely to watch them.
"Those are the ones they watch over Christmas," she told the BBC.
"People who are voting get their film screeners and everyone is so excited to see all the American movies that haven't come out here yet," she said while promoting her latest film, Barney's Version.
Released last October, Made in Dagenham was part financed by BBC Films and the recently axed UK Film Council.
Its other nominations came for make-up and hair, costume design and supporting actress Miranda Richardson.
Pike, though, believes it was "a real shame" that neither lead actress Sally Hawkins nor screenwriter Billy Ivory are up for awards.
"Sally was the heart and soul of that film and I thought she did a phenomenal job," she told the BBC's Colin Paterson.
"With some films getting 14 [nominations], four is not such an impressive number."
The King's Speech has the most nominations this year, having been shortlisted in 14 categories.
Ballet thriller Black Swan received 12 nods, while Leonardo DiCaprio's Inception got nine.
The Bafta Film Awards will be held at the Royal Opera House in London on 13 February.
Pike, 31, is best known for her roles in 2002 Bond movie Die Another Day and the 2005 film of Pride and Prejudice.