Five axes Live from Studio Five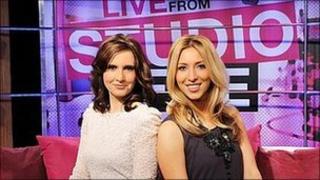 Five's daily magazine programme Live from Studio Five is to be axed, it has emerged.
The programme, currently hosted by Jayne Middlemiss and Kate Walsh, has suffered from falling ratings since it began in September 2009.
It will be replaced by OK! TV, a spin-off of the celebrity magazine, from 14 February.
The change is part of a rebrand of the channel following Richard Desmond's takeover last July.
OK! magazine is one of the publishing mogul's titles.
Branded a "forthright and chatty" news magazine show, Live from Studio Five was initially hosted by Walsh, former model Melinda Messenger and ex-footballer Ian Wright.
Messenger quit the show last March, while Wright's contract was not renewed last summer after he complained about the decision to halve the hour-long show's running time.
According to overnight figures, an average of 300,000 viewers tuned in to watch Monday's edition.
OK! TV previously aired on ITV in 1999 but was axed after one series.