Martin Sheen and Emilio Estevez pen father-son memoir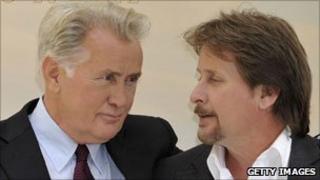 Martin Sheen and his son Emilio Estevez are to co-write a memoir called Along the Way, to be published next year.
Free Press, part of Simon & Schuster, said it would "celebrate [the] profound bond" between the two actors.
"I'm so happy to be working on this unique project with my father," said Estevez, 48. "We're both fathers of sons... neighbours and activists."
The pair recently collaborated on film The Way, which Estevez directed and Sheen appeared in as Estevez's father.
In the film, Sheen plays a man who walks a thousand-year-old pilgrimage path in Spain in his late son's honour.
"We hope that our story will communicate an essential message for our times," Estevez continued.
"Film is an illusion. Fame is ephemeral. Faith and family are what endure."
According to Free Press, the book will "give candid insights into the actors' lives and relationship [and] tell of their individual search for faith."
Sheen, 70, is best known for his roles in Apocalypse Now, Badlands and long-running TV series The West Wing.