Rock promoter Don Kirshner dies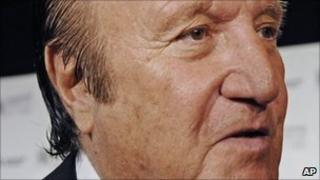 Don Kirshner, the veteran US rock promoter who helped launch the careers of Neil Diamond, Billy Joel and the Monkees, has died aged 76.
He was being treated for an infection in a hospital in Boca Raton, Florida when he passed away on Monday, his friend Jack Wishna said.
"There never was a better song plugger," said a "saddened" Diamond.
Kirshner also helped launch the careers of Prince, Lionel Richie, Ozzy Osborne and the Eagles.
In a statement, Joel said he had given "new, young musicians the opportunity to showcase their performances for a huge audience".
Once dubbed "The Man with the Golden Ear" by Time magazine, Kirshner started off in the music industry writing songs.
One of his first hits was Bobby Darin's My First Love, and he was honoured by the Songwriters Hall of Fame in 2007.
Yet he had more success promoting the talents of others, including Diamond, Carole King and Neil Sedaka.
Pop singer Tony Orlando paid tribute, calling Kirshner "a man who created the cornerstones of American pop music as we know it today".