Ugly Betty star America Ferrera on Sundance jury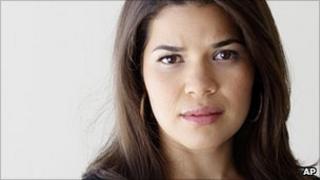 Actress America Ferrera - best known for playing the title role in US comedy series Ugly Betty - is one of 24 jurors at this year's Sundance Film Festival.
The Simpsons creator Matt Groening and Up in the Air director Jason Reitman will also sit on panels awarding prizes in its six competitions.
The Sundance Film Festival is widely regarded as one of the world's foremost showcases of independent films.
The awards will be announced on 29 January in Park City, Utah.
Ferrera, who won a special jury prize in 2002 for her role in Real Women Have Curves, will be on the jury in the US dramatic competition.
She will be joined by Reitman, Boys Don't Cry director Kimberly Peirce, cinematographer Tim Orr and film critic Todd McCarthy.
Groening will sit on the five-member jury for US documentaries, while British film-maker Lucy Walker will sit on the world documentary panel.
A $20,000 (£12,500) prize will also be presented to a feature film that has science or technology as a theme or depicts a scientist, engineer or mathematician as a major character.
The Sundance Film Festival runs from 20 to 30 January.