Julianne Moore to get 2011 Hasty Pudding award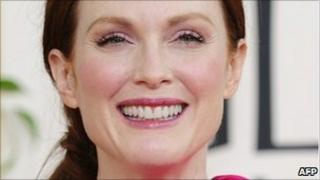 Actress Julianne Moore will be this year's recipient of the Hasty Pudding Woman of the Year award.
The prize is handed out each year by Harvard University's Hasty Pudding Theatricals, the oldest undergraduate drama troupe in the US.
Organisers praised the four-time Oscar nominee as an "actress of exceptional range".
She will be honoured with her award - a golden pudding pot - at a ceremony and parade in Boston on 27 January.
According to the group, 50-year-old Moore has "delivered outstanding work in both box-office hits and independent features".
It said her talent extended beyond film to include roles in Broadway productions and as the author of the Freckleface Strawberry children's book series.
Moore was recently seen opposite Annette Bening in The Kids are All Right, which this week saw her nominated for a Bafta.
Actress Anne Hathaway, star of The Princess Diaries and Love and Other Drugs, was named Woman of the Year in 2010.
The Hasty Pudding awards date back to 1795 when 21 Harvard students pledged that each member of their new club would provide "a pot of hasty pudding" for every meeting.
The recipient of 2011's Man of the Year award has yet to be announced.