Top Gear helps BBC iPlayer break 145m barrier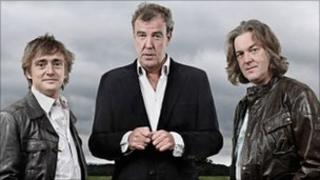 The BBC iPlayer notched up 145 million requests for programmes in December, breaking its own record for the third month in a row, it has been announced.
In December 2009, the catch-up service attracted 114 million requests.
But last month, Top Gear was the most popular show with the two Christmas specials being watched almost 1.3 million times each.
The Apprentice, Come Fly With Me, Doctor Who and EastEnders were in the top 10 most requested shows.
BBC director of vision Jana Bennett said the figures show how "essential" the iPlayer is as part of today's viewing.
The demand for the iPlayer has continued to rise.
In October, figures reached 139 million and numbers continued to rise in November with 141 million people requesting to watch programmes.
Daniel Danker, general manager of BBC Programmes and On Demand, said the corporation had seen a "huge growth of BBC iPlayer on game consoles, connected TVs, and mobiles phones."
He added that "growth on these devices will significantly outpace traditional BBC iPlayer use in 2011".
Day five of the Ashes Second Test was the most popular radio programme attracting 159,000 requests.