Inbetweeners stars take rude trip for Comic relief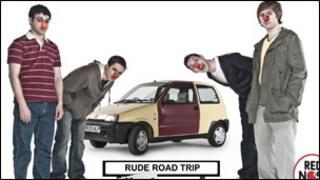 The stars of cult TV show The Inbetweeners are to tackle a lewd challenge in aid of Comic Relief.
Simon Bird, Joe Thomas, James Buckley and Blake Harrison aim to travel to 50 smuttily-named places in 50 hours.
Footage of the challenge, which begins on Tuesday, will be available to download from 3 February.
The actors, who play teenage friends Will, Simon, Jay and Neil, will use the programme's classic yellow Fiat to complete the task.
The group will finish on 20 January at a rudely-named London location.
The third and final series of The Inbetweeners came to an end in October last year but a movie is due out later this summer.
The show, which followed four students trying to become popular and get girlfriends, proved a huge success for Channel 4.
Bird and Thomas recently announced they are to star in a new Channel 4 sitcom called Chickens, which they co-wrote.
They will play young men left behind while their contemporaries fight on the Western Front during World War I.