Wire star Dominic West to play killer Fred West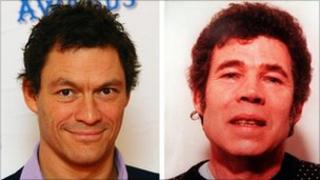 Wire actor Dominic West is to play Fred West in a drama about the Gloucester killer's final months, ITV has said.
ITV's Appropriate Adult will focus on the period between Fred West's arrest and his suicide on 1 January 1995.
Emily Watson will play Janet Leach, a voluntary worker who sat in on West's police interviews and was his confidante, while UB Dead actress Monica Dolan will play Rose West.
The drama is expected to air by the end of the year.
Filming will start in Manchester next month.
Volunteers like Leach were appointed to sit in on police interviews to safeguard the interests of children or vulnerable adults.
Appropriate Adult comes from the team behind the Bafta award-winning ITV drama See No Evil: The Moors Murders, which starred Maxine Peake as Myra Hindley.
"Our intention is to produce a sober and thought-provoking drama based on a true story," said executive producer Jeff Pope.
The drama will be directed by Julian Jarrold, whose credits include Red Riding.
ITV Studios said it has been in consultation with Gloucestershire Constabulary since 2007 about the drama.