Christmas special of Downton Abbey to be screened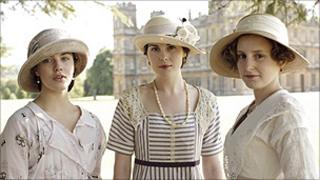 A festive special of ITV1 costume saga Downton Abbey is set to air in December.
The Christmas special will continue where the second series - due to screen in the autumn - leaves off.
The popular drama, which has already been commissioned for a second series, stars Dame Maggie Smith, Hugh Bonneville and Penelope Wilton.
Written by Oscar winner Julian Fellowes, the last episode of the first series attracted 10 million viewers.
"Julian has come up with a fantastic story that will give audiences the chance to enjoy the experience of the festive experience at Downton Abbey," said Laura Mackie, director of drama at ITV.
The programme follows the life of the Crawley family and their domestic staff at their country house.