P Diddy makes live comedy debut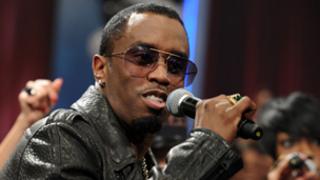 Rapper and film star Sean 'P Diddy' Combs has made his first foray into live comedy with a guest slot at a venue in New York.
He appeared in comic Chris Gethard's stand-up show at the Upright Citizens Brigade Theatre on Friday.
US comedian Gethard had been asking Combs to appear with him for over a year via Twitter and Youtube messages.
His first video plea to Combs in 2009, said: "I want to live in a world where something like this can happen."
Gethard - who had his own show on the Comedy Central channel - runs a monthly stand-up night at the club.
Combs brought farewell gifts for the comic, who is embarking on a national tour, including a fake gun.
The rapper recently appeared in Russell Brand comedy, Get Him To The Greek and has starred in a Broadway play.
He is due to fly to London on Monday to meet fans at London's flagship HMV store on Thursday.
On Twitter he said: "Feelin' a little under the weather. About to take a hot bath and make a hottie totty and try to sweat it out so I can make it to London."