Bruno Mars songwriters top 2010 chart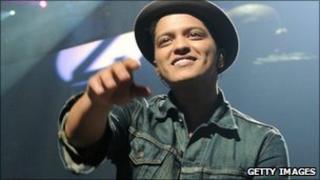 The trio behind Bruno Mars' Just The Way You Are and Cee Lo Green's Forget You were the most successful songwriters in the UK chart in 2010, research by Music Week magazine shows.
The Smeezingtons - Mars, Ari Levine and Philip Lawrence - also co-wrote the singer's current number one Grenade.
Duo Stargate, who co-wrote hits for Katy Perry and Rihanna, were second.
Will.i.am was third on the chart, which was based on writers' shares of the UK's 100 best-selling singles of 2010.
As well as number ones Forget You, Just The Way You Are and Nothin' On You, by rapper B.o.B, The Smeezingtons were behind songs including number three hit Billionaire by Travie McCoy.
New York-based Norwegians Mikkel Eriksen and Tor Erik Hermansen, who make up Stargate, wrote hits including number ones Firework, by Katy Perry, as well as Rihanna's What's My Name and Only Girl (In The World).
Will.i.am enjoyed success with songs written for his band, Black Eyed Peas, as well as Cheryl Cole hit 3 Words, on which he featured as a guest vocalist, and Usher chart-topper OMG.
US rock band Journey were at number four following the resurgence of their 1981 song Don't Stop Believin', made popular again by its appearance in US high school TV show Glee.
Biffy Clyro songwriter Simon Neil - whose song Many of Horror was covered by X Factor winner Matt Cardle under the name When We Collide - was at number five.
Glee return
In Sunday's top 40 singles chart, Mars' Grenade blasted Rihanna's What's My Name - this week's number three - off the top spot in its first week of release.
BBC Sound of 2011 winner Jessie J's Do It like A Dude climbed three places to two.
The cast of TV series Glee - a new series of which began on E4 last week - had the highest new entry in the chart, at 25 with a cover of Telephone, by Lady Gaga and Beyonce.
The Glee cast also scored a second new entry, at 35, with their cover of Empire State of Mind by Jay-Z and Alesha Keys.
Kanye West and Jay-Z collaboration H.A.M was a new entry at 30.
In the album chart, Rihanna held on to number one with Loud, while Plan B album The Defamation of Strickland Banks remained at number two.
Cee Lo Green's The Lady Killer climbed one to three, Rumer's Seasons Of My Soul rose two to four and Mumford and Sons stayed at number five.
Stand Still, the debut collection from Emma's Imagination - winner of Sky One talent show Must Be The Music - was the highest new entry at 14, followed by British Sea Power's Valhalla Dancehall, at 22.
And late Hawaiian ukulele player Israel Kamakawiwo'ole's album Somewhere Over The Rainbow went straight in at 28.