Mark Thompson increases BBC budget cuts by 4%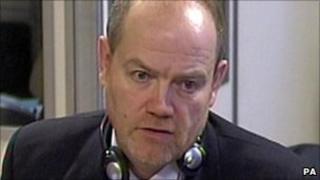 BBC Director General Mark Thompson has said he is increasing the target for cuts by 4% over the next four years.
Mr Thompson told staff on Thursday that the £400m saving was necessary so that a "reinvestment" pool could be established.
The BBC had previously announced it would have to cut its budget by 16% in order to meet the cost of the recent licence fee deal.
It was agreed that the annual licence fee would be frozen until 2017.
"I believe we need the ability to reinvest as well. Sometimes to boost quality we need more money in certain parts of the BBC," Mr Thompson said.
The cutbacks have also been made so the BBC can afford to pay for some other conditions of the license fee deal, such as funding of the World Service and BBC Monitoring.
He said reinvesting the money saved would "boost quality and editorial ambition and respond to new developments in the media".
He also ruled out closing any services or channels, saying "the British public love the services they get. You say you want to close a service and its audience doubles".
Mr Thompson has asked staff to suggest ways they think the savings could be made.
However the National Union of Journalists has condemned the additional cuts saying it will "actively resist" them.