US soap Dynasty 'to be made into a film'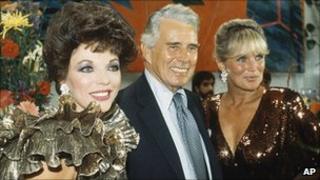 The creators of 1980s soap Dynasty have announced plans to turn the US series into a film, according to reports.
Esther and Richard Shapiro are working on a prequel about Blake Carrington finding out he is heir to the family's oil empire.
"It was my daughter Florie's notion to do a prequel, and that sounded very good to us," Richard Shapiro said.
The original series starred Joan Collins and the late John Forsythe and ran from 1981 to 1989.
"We've given thought to the movie before and we've been approached by a lot of companies," Shapiro told the E! Online website.
"But no one seemed to have a proper fix on it. Then suddenly we said, 'Let's do it [ourselves]!' - and we're the ones to do it."
The movie version will be set in the 1960s and will feature Blake's love affair with Collins' character Alexis.
Catfights, glamour and giant shoulder pads became synonymous with the show, which also starred Linda Evans and the late Christopher Cazenove.