Spider-Man musical delays opening night again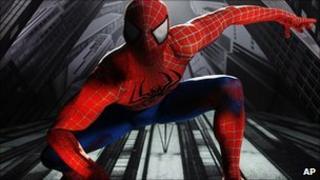 The opening night of the new Spider-Man musical on Broadway has once again been delayed.
The official first night of the production, which has been plagued with problems including on-stage injuries, will now open in March.
Producer Michael Cohl said it needed extra time to rehearse a new ending, but promised this would be "the final postponement".
The show had been scheduled to open in February.
Earlier this month it was announced that U2 stars Bono and The Edge, who wrote the score, would return from touring to help fix the show's problems.
Four actors from the production have been injured during previews, while frequent technical glitches and negative early assessments from critics have caused further problems.
In December lead actress Natalie Mendoza announced she was pulling out of the show.
Despite its fraught preview performances, the musical is still selling out the 1,930-seat Foxwoods theatre in Times Square almost every night.
Yet the show's huge costs - which include a 41-member cast, 18 orchestra members and dozens of aerial stunts - mean the theatre will have to sell out every show for several years just to break even.
The weekly running bill has been put as high as $1 million (£632,000).
"We are so grateful for the enthusiastic audiences who have been coming to see Spider-Man: Turn Off the Dark," director Julie Taymor said.
"We are dedicated to giving them the very best show we can."