Barn cements place in art history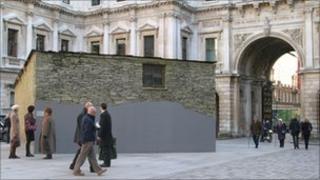 A cold, damp Cumbrian shed has been recognised as one of Britain's modern art landmarks after the Royal Academy of Arts decided to build an exact replica in its courtyard.
When visitors to the Modern British Sculpture exhibition - the biggest survey of British sculpture for 30 years - turn off Piccadilly in London and walk through the Royal Academy's grand arches, they may expect to be greeted by an imposing work by Henry Moore or Barbara Hepworth.
Instead, they will be met by a small traditional stone barn - or, as one of the exhibition's curators describes it, a hovel.
It is a loving replica of an old farm shed that stands in a rural Lake District valley, and has been painstakingly installed at the heart of Britain's artistic establishment by Cumbrian farmers using dry stone wall techniques.
It is an unlikely choice, but confirms the significance of the original shed in the story of modern art - or more specifically, the use German artist Kurt Schwitters put it to.
Schwitters, who has influenced Damien Hirst, Antony Gormley and Sir Peter Blake, has been described as the godfather of pop art and the pioneer of artistic installations.
Close to the Dada scene in Germany in the 1920s, Schwitters formed his own one-man art movement, Merz, spanning 3D collages, poetry, magazines, performance and painting.
But he is best remembered for his series of wall-to-wall sculptural installations that filled entire rooms.
The first was The Merzbau, in his family home in Hanover, which the artist worked on until he was forced to flee Germany in 1937. The house was destroyed by an Allied bomb six years later.
He moved to Norway, where he started work on another Merzbau, but left it incomplete in 1940 when the Nazis invaded.
Schwitters then moved to the UK, where he was interned before moving to the Lake District.
Unknown, he scraped a living by painting portraits and landscapes before coming across the shed - a former gunpowder store - where he set about making his final work, the Merz Barn.
"It was a manky little barn," says Ian Hunter of the Manchester-based arts charity Littoral, which now owns the site.
"It was damp, it was falling down. But artists don't see things like that - they just see a place where they can make ideas happen."
The project was already under way when New York's Museum of Modern Art offered Schwitters $3,000 towards his costs after tracking him down to his humble retreat.
According to his plans, the barn was to have been transformed into a modernist grotto with zig zag walls, an angled false ceiling and a slanted column.
But he only worked on one wall before dying in 1948.
That wall, which provides a glimpse of his intentions, features abstract, protruding shapes made from plaster, paint and objects he found nearby, such as stones, twigs, a metal grill and a tin can.
The barn was neglected after his death, but the wall was salvaged by the artist Richard Hamilton, who transferred it to the Hatton Gallery in Newcastle in 1965.
Other smaller sculptures he made in the barn are now on display at Tate Modern in London.
The rest of the building was left to rot again and was bought in 2006 by Littoral, who hope to restore it and build a small museum on the site.
"When we came here, the place had really not been looked after," Mr Hunter says. "It was overgrown and leaking. It was a complete mess, basically."
Today, the only traces of Schwitters' work in the barn, near the village of Elterwater, are a couple of patches of plasterwork on the walls.
There is a full-size photograph of the missing wall, but it is otherwise bare, dingy and prone to flooding.
Littoral's restoration campaign has been boosted by Hirst and Gormley, who have donated artworks to be auctioned for the cause, while Bridget Reilly, Susan Hiller and Tacita Dean have also lent their support, Mr Hunter says.
"He was part of the red hot core of modernism," Mr Hunter says of Schwitters. "I think that's been a huge influence on British art."
The Royal Academy chose the Merz Barn for its courtyard over Moore and Hepworth because it provided a "fresher" approach to the subject, according to the exhibition's co-curator and artist Keith Wilson.
It represents an artist who was so dedicated to his work that he toiled in obscurity without being commissioned, according to Mr Wilson.
"It's a Westmorland hovel and that would do for him," he says.
"What's central to me is that he, as an artist, had the strength of will to return to the subject even when no-one was asking that of him, and after a hard war.
"In a way, the works from that period are full of fresh energy and excitement and a great richness - it's just that they're not fulfilling a traditional public function."
The London version of the barn, which will be closed, is in the exhibition along with works by Hirst, Julian Opie and Richard Long as well as Moore and Hepworth.
"Schwitters seemed iconic as a counterpoint to Moore and Hepworth, and as a contemporary," Mr Wilson says.
"There he was working away, making world class work, but pretty isolated."
Modern British Sculpture opens at the Royal Academy on Saturday. A series of Schwitters-inspired exhibitions and performances, organised by Littoral under the banner Merzman, takes place in Manchester from February.