Take That conference to analyse reunion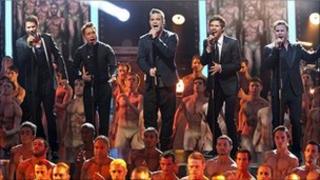 Pop band Take That's reunion is to be debated at an academic conference.
The two-day event will take place at Salford University in June, one week after the group's stadium tour begins.
It is billed as "an interdisciplinary conference examining the theme of break-up and reunion in popular music acts, focusing on Take That".
It promises to examine "the narrative structures [that] characterise Take That's journey" and the psychological and social roles that reunions fulfil.
It will also ask why the one-time boy band have enjoyed greater success with their comeback than other pop groups , such as East 17 and New Kids on the Block.
Take That's latest album, Progress, saw the return of former member Robbie Williams to the fold.
It was the UK's best-selling album of 2010 with sales of 1.8 million copies.
'Profound implications'
Take That's summer tour - which begins in Sunderland on 27 May - smashed records when 1.3 million tickets were sold in the first 24 hours.
The conference will be led by Tim Wise, who teaches popular musicology and music history at Salford University.
"A lot of interest is focused on Take That, and so we thought it right to investigate this phenomenon," Mr Wise said.
"Take That were one of these manufactured boy bands, totally inauthentic in any way you can imagine, and I don't think anybody expected them to last for so long.
"Popular music is a serious business, and I think it's only right that people study it."
The conference will tie in with an exhibition about pre-digital fan culture, focusing on the devotion Take That inspired the first time around.