Queen exhibition to mark jubilee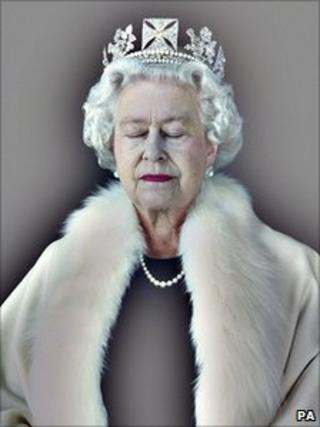 Portraits, photos and images of the Queen are to tour the UK as part of an exhibition marking her Diamond Jubilee.
Highlights include works by Sir Cecil Beaton, Lord Lichfield, Andy Warhol and Lucien Freud.
The Queen: Art and Image will explore the way she has been portrayed across her 60-year reign.
The show opens later this year in Edinburgh before travelling to Belfast, Cardiff and the National Portrait Gallery in London.
Artist Chris Levine, who made a hologram portrait of the Queen in 2004, will create another work for the exhibition.
Sandy Nairne, director of the National Portrait Gallery, called the monarch "the most portrayed person in British history".
The exhibition, she said, would reflect "her long reign and also the respect and affection which is felt towards her."
The exhibition will include formal painted portraits, official photographs, press images and works by contemporary artists.
A new portrait of the Queen by artist Isobel Peachey, displayed at the National Portrait Gallery last year, now hangs in the grand lobby of Cunard's new Queen Elizabeth cruise ship.