Dennis Hopper's Warhol print sells for $302,500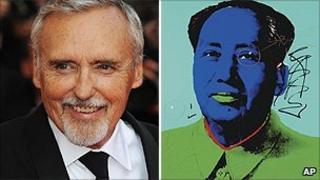 An Andy Warhol portrait of Chairman Mao owned by the late Easy Rider star Dennis Hopper has sold for $302,500 (£193,000) at a New York auction.
The 1972 work, which sold for more than 10 times its estimate, was among 300 items from the actor's art collection that went under the hammer.
Another Warhol print of Marilyn Monroe fetched $206,500 (£132,000).
Much of Hopper's most valuable art was sold at a November auction, raising more than $10m (£6.4m).
Warhol's Mao print was unique because it included bullet holes fired after Hopper mistook the portrait of the Communist leader for Mao himself, according to Christie's.
The actor, who died of cancer last year aged 74, later showed Warhol the bullet holes. Instead of reacting angrily, the artist called the star a collaborator.
Legal wrangle
Prior to the sale, Hopper's estranged widow, Victoria Duffy Hopper, won an injunction stopping it from including a significant portion of the actor's art collection.
A Los Angeles Superior Court judge allowed her to withdraw 32 works, including pieces by US artist Bruce Conner and British portrait painter Jonathan Yeo.
According to court papers seen by the Independent, a temporary restraining order was sought because the "irreplaceable" works had "sentimental and emotional value."
Mrs Duffy Hopper has accused the actor's family of trying to cut her out of his will, a charge they have denied.
Hopper filed for divorce from his fifth wife in January 2010, citing her "outrageous conduct" as the cause.