Salvador Dali museum re-opens in Florida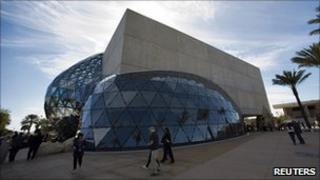 A museum dedicated to some of Salvador Dali's most famous paintings has re-opened in the US.
The Dali museum, which cost $36m (£23m), has been officially declared open in St Petersburg, Florida.
The new building, believed to house the world's most comprehensive collection of his work, was designed to reflect the Spanish artist's surreal style.
Princess Cristina of Spain, one of the dignitaries present, said the museum was "state of the art".
"The city of St Petersburg gains a landmark and outstanding beacon of cultural beauty," she said at Tuesday's event.
The museum's collection, begun by a couple from Ohio in 1942, consists of more than 96 oil paintings and 2,000 other pieces.
The new building has more than twice the exhibition space of its predecessor as well as improved hurricane protection.
Dali, a classically trained painter, was renowned for his surrealist paintings of melting clocks and long-legged elephants.
Works from every period of his career are represented in the museum, according to its guide.