Steven Tyler denies Aerosmith break up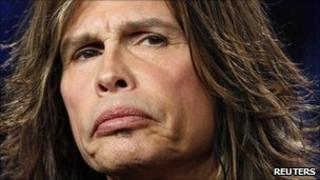 US rock star Steven Tyler has denied his new judging role on TV talent show American Idol means his band Aerosmith have broken up.
"We are just on a break," the 62-year-old said in Los Angeles on Tuesday. "We are still rocking big time."
Tyler said Aerosmith would begin recording a new album at the end of the month and have a tour lined up.
Relations are said to be strained within the band, which has not recorded a studio album since 2001.
"It's not dead. It couldn't be dead," Tyler said of the band that has sold more than 150 million albums since forming in 1970.
The rock star will join the American Idol judging panel when its 10th series begins on 19 January, along with actress and singer Jennifer Lopez.
Last week Tyler told Rolling Stone magazine that Aerosmith were having difficulty contacting its guitarist, Joe Perry.
"I don't know where he is," he told the publication.
The singer's future with the band seemed to be in doubt last year after Perry announced Tyler had left the group.
Aerosmith later announced they planned to tour across Europe, with Tyler as their front man.
Perry was reportedly dismissive of American Idol last year, calling it "one step above Teenage Mutant Ninja Turtles".
"I don't want Aerosmith's name involved with it," he told Canada's Calgary Herald newspaper in September.