Michael Jackson 'threatened to cancel concerts'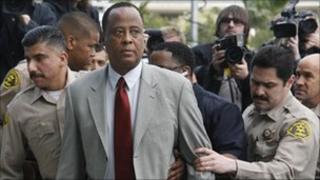 Michael Jackson told his doctor on the day he died he would have to cancel his comeback concerts unless he had a dose of propofol, a court has heard.
Dr Conrad Murray told police he gave Jackson the anaesthetic after a night administering lesser drugs to help him sleep, detective Orlando Martinez said.
Prosecutors at the preliminary hearing in Los Angeles have said the drugs combination was lethal and accuse Dr Murray of involuntary manslaughter.
He has pleaded not guilty.
Mr Martinez, who interviewed Dr Murray two days after Jackson's death on 25 June 2009, said the doctor told him the singer had stopped breathing shortly after 1100.
The detective said Dr Murray admitted giving Jackson propofol - the key drug responsible for his death - between 1040 and 1050.
Mr Martinez said Dr Murray told him Jackson fell asleep at about 1100.
The doctor said he then left the room for "two minutes" to go to the bathroom but, on returning shortly after 1100, found the singer had stopped breathing.
He started to try to resuscitate Jackson but told Mr Martinez he did not call 911 himself because "he said he was caring for his patient and he did not want to neglect him".
Prosecutors say that phone records show the doctor made a series of calls between 1100 and 1200 and that an ambulance was not called until 1221.
Dr Murray administered other drugs - lorazepam, midazolam and valium - to Jackson throughout the night before in an attempt to help the star sleep.
Jackson repeatedly told the doctor he would cancel his This Is It concerts in London if he could not sleep and said he wanted his "milk", which was how he referred to propofol.
Mr Martinez also said Dr Murray told him he had given Jackson doses of propofol six nights a week for two months but was trying to wean him off the drug as he feared his patient was becoming addicted.
Following the preliminary hearing, which could end later this week, a judge will decide if there is enough evidence for Dr Murray to stand trial for involuntary manslaughter.
He could face up to four years in prison if tried and convicted.