EastEnders actor Arinze Kene seeks stage success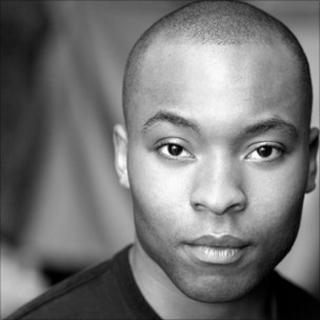 He is best known for his role as Connor Stanley in EastEnders. But when he's not in Albert Square, actor Arinze Kene is making his name in the world of theatre.
Kene's latest play Suffocation, an exploration of the extremities of peer pressure, opens this week at London's Oval House theatre.
Set at a 20th birthday party, the one-act piece sees a group of friends play the dangerous game of cutting off their oxygen supply to experience a brief high.
"The play doesn't encourage it, but it speaks about it," says Kene when we meet on a rain-lashed afternoon at the theatre opposite the Oval cricket ground.
"I had to tread carefully when I was writing to make sure the play doesn't glorify it. People die from this."
The playwright and actor got the idea for the play after reading a newspaper article about "the choking game" two years ago.
"I spoke to a lot of friends of mine who have done it in the past. I've seen it happen.
"When I was in school, there was a time after sports when they started doing it in the dressing room."
Kene, who was raised in Hackney in north London, is not keen on what he calls "fairy-tale endings".
"I was born in Nigeria, and the stories I heard when growing up didn't have happy endings," he says.
"When I write, a lot of the time it doesn't end in a smiley way."
Kene got the acting bug at an early age, but admits he had to curb his enthusiasm at his tough secondary school.
"In drama class you could only take it so seriously. You had to mess around or you lose your credibility.
"Secretly I loved drama, but I had to put it down to show that I was hard. After college I picked it right back up again."
Early roles included eight months in a French production of The Lion King and a tour with the musical Daddy Cool. There was also a leading role in last year's British basketball film Freestyle.
Yet it was his realisation that there weren't "enough parts for people like me" that led to him writing his first play, Estate Walls.
"I can remember the day. It was a Thursday. It was about 3am and the idea was in my head about Estate Walls.
"So I got on the computer and started writing that first scene."
Estate Walls has been nominated for best new play at the "Offies", new awards recognising "Off West End" theatre in London.
Kene is also up for most promising new playwright at the event, to take place at the end of February.
He describes his first play, about a young writer who dreams of leaving his estate, as "an age-old story about a brother falling in love with another brother's girl".
"I grew up on an estate in Hackney," he explains, "My bedroom faced out onto the estate, so I was able to observe these characters I wanted to write about."
Estate Walls was a challenge to stage, he recalls, because it was riddled with "slanguage" or street vernacular.
"It's a language no one has taught us," says Kene. 'It's a poetry we've taught ourselves.
"The audience might not understand it on the page, but they do when watching it performed."
Little Baby Jesus, another play that Kene has been working on for a year, is set to be staged later in 2011.
Meanwhile, his TV career continues with EastEnders. The character of Connor was introduced for 10 episodes in March 2010 and was brought back later that year.
So how career-changing is a role on the BBC soap? "Every single day someone recognises you," says the actor. "It's changed the way I walk down the street.
"You have to be a bit cautious. And I find it easier to approach people in the industry, because they already know who you are."
There is no doubt about the level of Kene's creative energy and ambition. He is already writing for EastEnders spin-off E20 and will direct his first short film in a couple of months.
"I'm veering into TV and film a lot more. It's something I always wanted to break into," he says.
"I see myself writing and directing a feature in the next few years."
Suffocation runs at the Oval House theatre from 12 to 15 January.