Eric Sykes hits out at Hattie Jacques drama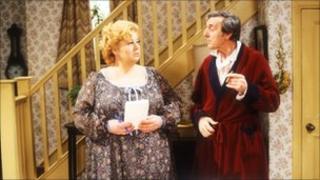 Veteran actor and writer Eric Sykes has criticised an upcoming TV drama about friend and colleague Hattie Jacques.
In an interview with the Mature Times, the 87-year-old said it was "very sad" that parts of the late actress's life "are now being raked over".
The BBC Four show, Hattie, focuses on Jacques' affair with car dealer John Schofield while she was married to Dad's Army star John Le Mesurier.
The biopic, starring Gavin & Stacey star Ruth Jones, airs on 19 January.
Jacques, who appeared with Eric in his hit TV show Sykes, died in 1980 at the age of 58.
Her former co-star remembers her as a "wonderful" colleague with an almost "telepathic" capacity for line-reading.
"She'd read out the script in rehearsal and she'd know her next line without turning the page," Sykes told the monthly newspaper.
"Hat wasn't a small lady, but her size was never mentioned in our scripts," he continued.
"She trained as a ballet dancer and was incredibly agile.
"When she was well over 40 she'd jump up and do the splits."
Jacques appeared in 14 of the innuendo-laden Carry On films, where her physical stature saw her often cast in matronly roles.
Hattie is written by Stephen Russell, whose other TV work includes episodes of Channel 4 drama Shameless.
When the drama was announced last year, its executive producer Jemma Rodgers said it would have "a wonderfully warm heart".
The drama, she said, would go "behind the scenes of the public face of Hattie Jacques to reveal her unconventional but very modern relationships."