True Grit shoots to top of US box office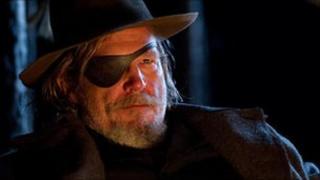 Western remake True Grit has shot to the top of the North American box office, taking $15m (£9.7m) in its third weekend, studio estimates show.
The film has now taken a total of $110.4m (£71.1m) in the US and Canada, becoming the first western since 1992's Unforgiven to top the $100m mark.
Comedy Little Fockers fell to second place with takings of $13.8m (£8.8m).
Nicholas Cage's supernatural thriller Season of the Witch opened in third place with takings of $10.7m (£6.9m).
True Grit, which stars Jeff Bridges as hard-nosed US Marshal "Rooster" Cogburn, is directed by the Coen brothers and is based on a novel by Charles Portis.
It was originally made into a 1969 film which earned its star, John Wayne, his only Oscar.
The new version, which also stars Matt Damon, ended Meet the Parents sequel Little Fockers' two-week run at the top of the box office chart.
Season of the Witch, set in the Middle Ages, stars Cage as a knight who escorts a suspected witch to her trial.
Sci-fi sequel Tron Legacy, also starring Bridges, dropped one place to four, having made an estimated $9.8m (£6.3m) between Friday and Sunday.
Ballet-based thriller Black Swan, starring Natalie Portman, rose four places to number five, taking $8.4m (£5.4m) over the same period.
Country Strong, starring Gwyneth Paltrow as a fallen country star, opened in sixth place with takings of $7.3m (£4.7m).
True Grit will open the Berlin Film Festival on 10 February and is released in the UK the following day.