The Social Network wins National Critics award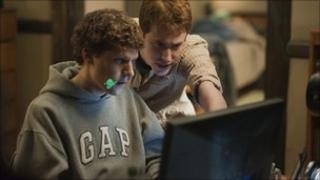 The Social Network has moved a step closer to Oscar success after bagging four awards from the National Society of Film Critics in the US.
The film, about the origins of Facebook, was named best picture while David Fincher was named best director and writer Aaron Sorkin claimed best screenplay.
Jessie Eisenberg was named best actor as Facebook founder Mark Zuckerberg.
British actress Olivia Williams picked up best supporting actress.
She played the wife of a former Prime Minister in Roman Polanski's The Ghost.
The Social Network is widely considered one of the front-runners for the Oscar nominations, which are announced on 25 January.
Eisenberg beat off competition from Colin Firth for The King's Speech in the acting category but Firth's co-star Geoffrey Rush was named best supporting actor for playing a speech therapist who helped King George VI overcome a stammer.
The National Society of Film Critics, which includes members from newspapers in Los Angeles, Boston, New York and Chicago criticised the US Classification & Ratings Administration for placing an R-rating on The King's Speech for the use of strong language in the film.
The rating requires under-17s to be accompanied by an adult.
The British Board of Film Classification lowered the rating of the film from 15 to 12A, after its UK distributors launched an appeal against the decision.
Italian actress Giovanna Mezzogiorno won an award as Mussolini's secret lover in Vincere while the award for best foreign language film was won by Carlos - about the life of Ilich Ramirez Sanchez, the jailed terrorist also known as the Jackal.
Boyle honour
The cast of The Social Network was also given the ensemble performance award at the Palm Springs International Film Festival.
Natalie Portman was named best actress for her role as a ballerina in the forthcoming Black Swan, while British actress Carey Mulligan's roles in Never Let Me Go and Wall Street: Money Never Sleeps landed her the award for breakthrough performance.
Danny Boyle, the director of 127 Hours and the Oscar-winning Slumdog Millionaire was presented with a visionary award and Javier Bardem collected the international star honour.