David Hare returning with spy thriller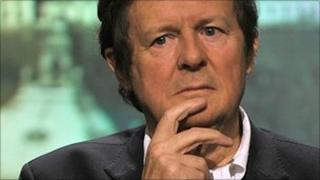 Bill Nighy and Rachel Weisz are to star in a new spy thriller written by Oscar nominee Sir David Hare - his first original screenplay in 20 years.
Page Eight sees Nighy play a long-serving M15 officer who is forced to quit his job in order to find the truth behind a mystery file which threatens its stability.
Ralph Fiennes, Michael Gambon and Ewen Bremner will also star in the drama.
Filiming begins this month and will be screened on BBC Two later this year.
"The last decade has been as testing as any in the history of the British intelligence community," Sir David said.
"The compromises and dilemmas they've faced in the new century make a fascinating story.
"I'm thrilled to be working with such an extraordinary ensemble of great actors," he added.
Best-known as an award-winning playwright, Sir David - who will also direct Page Eight - was twice Oscar nominated for The Hours in 2002 and The Reader in 2008.
In January 2009, he accused the BBC of lacking imagination, saying the corporation should be devoting more of its resources to single dramas and that it had "lost its nerve".