Aretha Franklin says she is 'feeling great'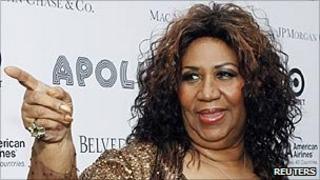 Aretha Franklin has told a US magazine she is "feeling great" after surgery for an undisclosed illness, saying "the problem has been resolved".
Franklin, who left a Detroit hospital in December after treatment, told Jet she would not discuss reports the treatment was for pancreatic cancer.
"I don't have to talk about my health with anybody other than my doctors," the 68-year-old said.
She said she wanted concerned fans to know she was "coming along".
In October, she cancelled all her public appearances but has never said why she was sick.
She said in the interview with Jet that a doctor had told her to have a CAT scan after she felt "a very hard pain in my side" during a concert in Toronto, Canada, last year.
"Thank God he said that because that unfolded everything, what the problem was and everything," she added.
The "queen of soul" is best known for hits including Think and Respect.