Toy Story 3 tops 2010 box office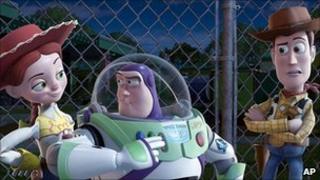 Toy Story 3 was the top-grossing film at the box office in the UK and Ireland in 2010 taking £73.8m, figures released by Screen International show.
The Disney-Pixar animation, also the top film in North America last year, beat Avatar into second place.
James Cameron's 3D film took £67m and was followed by Harry Potter and the Deathly Hallows: Part One, with £48.7m.
Alice in Wonderland, starring Johnny Depp, was fourth with £42.2m, while Inception was fifth with £35.8m.
The rest of the year's top 10 is dominated by sequels with the fourth full-length Shrek animation - Forever After - taking £32.3m, in sixth place.
Vampire sequel The Twilight Sage: Eclipse was the seventh highest-grossing film, with £29.7m, followed by Sex and the City Two, with £21.6m, and Iron Man 2, with £21.2m.
The top 10 for 2010 is rounded out by fantasy remake Clash of the Titans, starring Sam Worthington, which took £20.2m.