Samantha Womack to leave EastEnders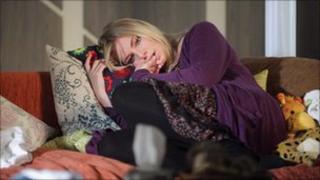 EastEnders actress Samantha Womack, whose character has been involved in a controversial baby swap plot, is to leave the show, it has been announced.
The scenes of Womack's character swapping her dead child for another baby, have prompted thousands of complaints to the BBC.
But the actress has denied reports she quit over the story, saying the decision had been made months ago.
The 38-year-old's agent said there is "no truth whatsoever" in the claims.
In a full statement, Womack's agent Michael Wiggs said: "There's no truth whatsoever in any suggestion that Sam is 'quitting' Eastenders over the current storyline.
"Her contract comes to a natural end later this year and she will be taking a break from the show; this has been agreed with the producers for several months.
"Sam has had an incredibly happy and fulfilling time on EastEnders over the last few years. She has huge respect for the show, writers and producers and has thoroughly enjoyed playing such a complex role that has been involved in so many tough and challenging storylines."
'Unhelpful storyline'
Speaking to Radio 4's World At One programme, BBC controller of drama production John Yorke said: "The DNA of EastEnders has always been to take big strong social issues and wrap them in a traumatic wrapper. This story is very much in that tradition.
"Our job is to create a drama that people talk about. What's cheering about this - and I do hear the concerns - is that everybody's talking about cot death and we're putting it back on the agenda."
Parenting website Mumsnet said it has been inundated with complaints from concerned mothers over the storyline and wrote a letter to the BBC voicing its concerns.
In response to Mr Yorke's comments, the website's Katie O'Donovan said: "Our reservation was not about EastEnders covering the issue of cot death - which we believe can be covered successfully and sensitively in a drama, it's about the way they've heaped drama on that drama.
She added that the show had portrayed Ronnie's grief "unrealistically" and concerned bereaved mothers had contacted the site saying they had found the plot "unhelpful and has stigmatised grieving mums".
Viewers complaints
Womack will leave the BBC One soap in a few months.
The Sun newspaper claimed the 38-year-old actress brought filming to a halt during the scenes as she was so upset.
Her character Ronnie Branning lost her baby son James to Sudden Infant Death Syndrome (SIDS) and then swapped him for Kat Moon's newborn child Tommy.
TV presenter Anne Diamond, who has campaigned to raise the awareness of SIDS after her son died in 1991, told the BBC News website that she thought EastEnders script writers had "lost the plot".
"This crass twist to an otherwise credible storyline hasn't done one iota of good in educating a young audience about cot death, and it has upset a lot of mums and dads like me who've been through the worst nightmare a parent can endure and who have stayed sane, sensible and responsible despite it," she said.
Since the storyline was announced, 5,826 viewers have complained to the BBC about the New Year's storyline, which saw Ronnie take Kat's baby.
Earlier this week, EastEnders executive producer Bryan Kirkwood said: "We appreciate this is a challenging storyline and have taken care to ensure viewers were aware of the content in advance of transmission".