Paul Hogan to sue Australia government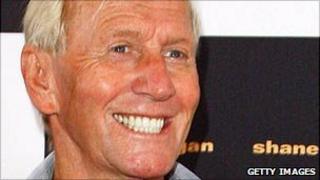 Crocodile Dundee star Paul Hogan has announced plans to sue the Australian government for damaging his reputation.
A five-year investigation into suspicions he was using off-shore banks to conceal his earnings and evade tax was dropped in November.
Fairfax Media reported that Mr Hogan's lawyer said the actor could seek up to $80m (£51m) for his loss of earnings.
Lawyer Andrew Robinson said: "His earning potential and reputation has been decimated."
In November, Australian Crime Commission Chief Executive John Lawler announced the investigation was being closed due to "insufficient prospects of securing convictions".
But it is understood the Tax Office is not dropping its probe into Mr Hogan's affairs.
It has not been revealed how much Mr Hogan apparently owes in tax, but the star has said that he is unable to afford even 10% of the bill.
Earlier this year, tax officials barred the 71-year-old actor from returning to his Los Angeles home for two weeks over the matter.
Mr Robinson told Australian newspaper The Age that his client was now "looking forward to resolving any outstanding matters with the Australian Taxation Office in accordance with the usual dispute resolution protocol".
The star has denied claims that he had been keeping film royalties in an offshore tax haven.