NYPD Blue 'buttocks fine' overturned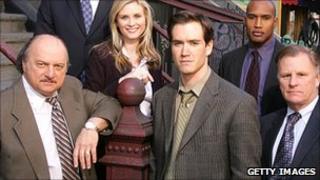 A US federal court has overturned a $1.2m (£775,000) fine imposed on TV network ABC for airing an episode of NYPD Blue containing female nudity.
The fine was imposed by the Federal Communications Commission (FCC), which said the episode, which aired in 2003 before America's 2200 watershed, had "dwelled" on a woman's buttocks.
The FCC said it had received a number of complaints about the episode.
But the court ruled the penalty was not consistent with indecency rules.
The FCC created its indecency policy in 2003 after U2 singer Bono swore during a live broadcast of the Golden Globe Awards.
Last July, however, the policy was decreed to be unconstitutional.
As a consequence of that ruling, the Second US Court of Appeals said the NYPD Blue episode should have not resulted in a fine.
If TV stations were no longer fined for "fleeting, unscripted profanities" in live broadcasts, it wrote, it should not be fined for brief nudity either.
In its ruling, the three-judge panel wrote there was "no significant distinction" between its decision in the expletives incident and the NYPD Blue case.
The regulator had imposed its most severe fine on all the 52 ABC stations that broadcast the episode of the police drama, which ended in 2005.
The FCC said it had not yet decided whether to appeal against the decision, which related to a scene in which a boy surprised a naked woman as she prepared to take a shower.