Jeremy Hunt outlines plans to boost art donations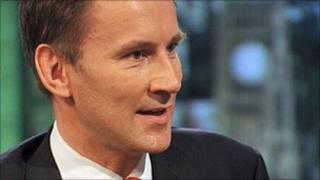 Culture Secretary Jeremy Hunt has announced plans to help boost private funding for arts organisations.
The 10-point plan includes an £80 million match-funding scheme to be set up to encourage private donors.
The government will also promote "planned giving" to encourage more people to leave 10% of their legacy to the arts and culture.
Mr Hunt said the funding was needed to help create "long-term financial stability and certainty".
"There is huge scope to strengthen private and corporate support for culture over the next few years, for the benefit of the culture sector and audiences across the country," Mr Hunt said.
'Year of corporate giving'
The £80m match-funding scheme will be funded by £30m from the Department for Culture, Media and Sport's (DCMS) spending review settlement over the next four years and up to £50m of lottery funding from Arts Council England over five years.
A "year of corporate giving" will be introduced next year to encourage more investment from the business sector - which already invests £150 million a year in arts and cultural.
Mr Hunt said he also wanted to give better public recognition for donors to demonstrate "the value of philanthropy and encouraging others to give".
He added he wanted to see the UK's rates of charitable giving approach those in the US, where the arts are funded through billions of dollars in philanthropic donations.
The Department for Culture, Media and Sport said the government as "wholly committed to continued public funding to the arts, but greater plurality of funding will help cultural institutions become stronger and more resilient in the long term".
In the government's Spending Review announced in October, Arts Council England faced a 30% cut in its funding, with national museums taking a reduction of 15%.