Queen writer Peter Morgan contemplates the afterlife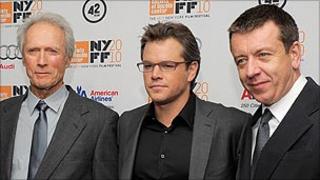 The writer of Frost/Nixon, The Queen and The Last King of Scotland reveals how he came to work with Clint Eastwood and Matt Damon on supernatural drama Hereafter.
On the day I am due to interview the British screenwriter Peter Morgan, the eyes of the world are turned to Zurich to find out which countries will be selected by Fifa to host the 2018 and 2022 World Cups.
As we all now know, England's bid to host the former tournament was doomed to failure - a situation one might imagine would appeal to this award-winning author.
Morgan, after all, is a man who - in such films as The Deal, The Queen, Frost/Nixon and The Last King of Scotland - has shown an affinity for turning the likes of Tony Blair, David Frost, Richard Nixon and Idi Amin into compelling protagonists.
He is no stranger to the beautiful game either, having brought football manager Brian Clough back to life in 2009 film The Damned United.
Perhaps surprisingly, though, the challenge of dramatising this national humiliation is not one the 47-year-old Oscar nominee is prepared to tackle.
"There are too many real-life figures there in one room," he laughs. "David Beckham talking to Prince William is enough to turn me pale.
"That's not dialogue I could write, though I would love to eavesdrop."
In any case, Morgan is keen to show he has more to offer than reality-inspired dramas about the great and good.
'Preposterous'
"I understand why someone would think that," he tells the BBC News website. "But to always be writing historical or fact-based drama would drive me nuts."
In this respect new release Hereafter represents something of a departure, focusing as it does on three people who find themselves contemplating mortality and the possibility of something beyond it.
Directed by Clint Eastwood, the film stars Matt Damon as a reluctant psychic whose life intersects with those of a French tsunami survivor and a London schoolboy mourning his late twin brother.
Morgan says "nothing could have been further" from his mind than the notion that the veteran director of Unforgiven and Million Dollar Baby might champion his speculative script.
"The idea this would end up with Clint Eastwood and Matt Damon was just preposterous," he admits, saluting the former for his "modesty, honesty and integrity".
Nor did he expect the 80-year-old film-maker would choose to make the script as written, without requesting revisions or embellishments as per the Hollywood norm.
"I kept saying, 'Please can we change a few words? Can't we work on it a bit?' And he said, 'No - I want to shoot it just as it is.'"
'Random and sudden'
The characters played by Damon, Belgian actress Cecile de France and British twins George and Frankie McLaren may be fictional constructs.
Yet the world they live in is very real, rocked as it is by natural disasters, fatal accidents and multiple terrorist bomb blasts on the London Underground.
The latter plot point might strike some as insensitive, particularly given Hereafter's UK release coincides with the ongoing inquest into the deaths of the 52 people killed in the 7/7 bombings of 2005.
Yet Morgan says his intention was not to "exploit" those events, but to reflect a world in which "the threat of death is ever present".
"We are living at a time where attacks are random and sudden and have no boundaries and explanation," he says.
"I wanted to write something that meant I could come to grips with the fact death was something I had to live with on a daily basis."
Morgan's current project is a biopic of the late Queen singer Freddie Mercury, a script he was asked to write by the film's putative star Sacha Baron Cohen.
The father of four admits "it took a couple of years to find a way into the story," which will focus on the period leading up to Mercury's seminal contribution to the 1985 Live Aid concert.
"I'm just mixing it up I suppose," he says of a successful career that has taken him from Queen Elizabeth II to a different kind of Queen altogether.
And with that he is gone - just as Fifa president Sepp Blatter begins to open a rather significant envelope.
Hereafter is out in the UK on 28 January.