Cultural Olympiad reveals celebrity line-up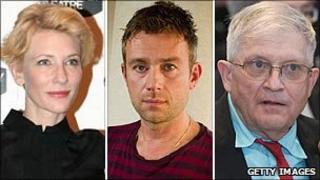 Actress Cate Blanchett, Blur's Damon Albarn and artist David Hockney will be involved in a 12-week arts festival running alongside the 2012 Olympics.
Their participation was announced in London by Tony Hall, chair of the Cultural Olympiad board.
He said 2012 would have "a stupendous summer of sports and arts [uniting] the whole of the UK in celebration."
Actor Jude Law, painter Lucian Freud and Turner prize-winning artist Rachel Whiteread will also feature in events.
Author Toni Morrison and film-maker Mike Leigh are others set to participate in the first group of commissions and special projects announced on Tuesday.
More than 1,000 events - some ticketed, some free - will make up the UK-wide cultural celebration, running from 21 June to 9 September 2012.
"From food to fashion, street dance to digital, pop to opera, the festival will offer a once in a lifetime chance to be inspired by the best in the world," said Cultural Olympiad director Ruth Mackenzie.
Highlights include major exhibitions by Hockney and Freud, a World Shakespeare Festival produced by the Royal Shakespeare Company and an original short film devised by Leigh.
Blanchett will appear with the Sydney Theatre Company in a production of Gross und Klein (Big and Small) by German playwright Botho Strauss, which comes to London after its 2011 Australian launch.
The music programme includes a new work from Damon Albarn, his Gorillaz collaborator Jamie Hewlett and theatre director Rufus Norris.
The BBC Proms and the Edinburgh Festivals will also work in tandem with the London 2012 festivities.
"2012 will be a magical summer and the festival will play a huge part in ensuring everyone can be part of the greatest show on Earth," said Lord Coe, London 2012 Chair.
The bold scheme was a key factor in London winning the bid to host the Olympics five years ago.
To coincide with the announcement, Hockney has supplied an artwork bearing the message: "see you in 2012 thats [sic] twenty twelve."
A moustachioed Law also sent a video message that was played at Tuesday's announcement.
Some of the events will be ticketed and some will be free. More information on ticketing, pricing and promotional plans will be released next year with the first tickets going on sale in October.
The theatre programme includes the World Shakespeare Festival, produced by the Royal Shakespeare Company, which will celebrate Shakespeare as the world's playwright.
The festival will also feature a Shakespeare exhibition at the British Museum, details of which will be announced in 2011.