Today presenter James Naughtie slips up on air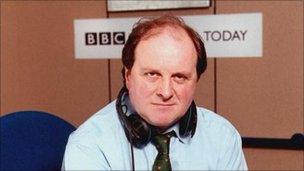 Radio 4 presenter James Naughtie has apologised for causing offence live on air on Monday by mispronouncing Culture Secretary Jeremy Hunt's surname.
The presenter inadvertently used an offensive four-letter word just before 0800 GMT on Radio 4's Today programme.
Naughtie said he was "very sorry" for any offence caused.
Mr Hunt tweeted: "They say prepare for anything before going on Today but that took the biscuit. I was laughing as much as u Jim."
"Or should I say Dr Spooner," he added.
Mr Hunt was interviewed on the programme about his plans for universal broadband provision and how superfast broadband will be delivered in the UK.
Naughtie inadvertently used the first letter of the Culture Secretary's title to replace the 'H' in Mr Hunt's surname.
The presenter told listeners shortly after his error that he got himself into a "verbal tangle courtesy of Dr Spooner."
According to e-mails sent in response to his mistake, Naughtie said: "Some found it funny, some were fairly offended."
"Occasionally these things happen in live broadcasting," he continued.
"I'm very sorry to anyone who thought it wasn't what they wanted to hear over their breakfast - neither did I, needless to say."
Later on Monday, broadcaster Andrew Marr repeated the four-letter expletive on Radio 4's Start the Week programme.
"We're not going to repeat it in quite the terms it happened," he told listeners, before doing precisely that.
After his error, he told the audience: "I should apologise for saying it again, but it's very hard to talk about it without saying it."
A BBC spokeswoman said: "James and Andrew regret what happened and have both apologised for their verbal tangles on air.
"These instances both involved a slip of the tongue during a live broadcast and we apologise for any offence caused."
Related Internet Links
The BBC is not responsible for the content of external sites.