Mark Lamarr to leave BBC Radio 2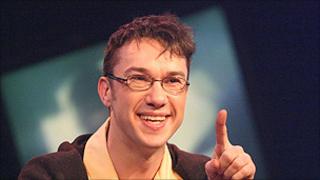 Radio 2 presenter Mark Lamarr is to quit the station after 12 years, it has been announced.
The former Never Mind The Buzzcocks host presented a weekly late night show and specialist music series Shake, Rattle and Roll.
Station controller Bob Shennan said he was "sorry" about Lamarr's departure, adding that his request for an earlier slot had not been granted.
Lamarr's final Friday night show is due to be aired on Christmas Day.
In an e-mail to presenters, Lamarr said: "It's become obvious over the last year the station has become much less interested in non-mainstream music, and my position has been extremely uncomfortable."
Mr Shennan said: "We wish him well and the door is never closed.
"Radio 2's music offer has never been stronger, more diverse or more popular. Next year we have plans to broaden it still further with more genres and new presenters."
A BBC spokesman said: "We plan to replace Mark's shows with equally distinctive content in 2011."
Lamarr presented the first nine series of Never Mind the Buzzocks from 1996.
He previously appeared on Channel 4 series The Word and The Big Breakfast.