Sheila Hancock receives Women in Film and TV Award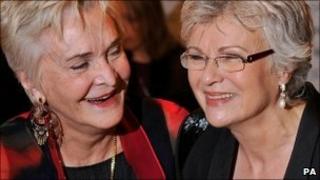 Sheila Hancock said she felt "unworthy" but "very honoured" as she received a special award from Julie Walters at the 20th Women in Film and TV Awards.
Hancock, 77, who was in the shows Bleak House and New Tricks, said women's roles in TV had been "totally transformed" since her career began.
Carey Mulligan picked up the best performance award for An Education while Andrea Arnold won best director.
Jane Goldman, whose credits include Kick-Ass, won the writing prize.
"When I started in the business, there were no women in executive positions, no women producers or directors and certainly no camera women," said Hancock, who got her first big TV break playing Carol in BBC sitcom The Rag Trade in the early 1960s.
"We were destined to do very archetypal roles, very cliched things, so I was a dizzy blonde for years.
"It has changed immeasurably, not enough, but it has changed immeasurably."
'Quite right'
Awards host Julie Walters said she was "thrilled" Hancock was receiving the lifetime achievement award.
"It is quite right and not before time," she added.
Screenwriter and director Jo Ho - the creator of CBBC show Spirit Warriors - won the new talent award while Sky News' special correspondent Alex Crawford received the news and factual award.
Beryl, Debbie and Sue Vertue of Hartswood Films - responsible for programmes including Men Behaving Badly and Sherlock - were among other winners.
They were presented with the achievement of the year award by Sherlock Holmes star Martin Freeman at the Park Lane Hilton event.