Tate Britain set for £45m revamp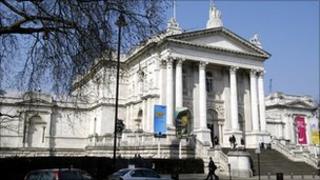 Tate Britain has announced the gallery will undergo a £45m makeover starting next year.
The renovations, designed to cater for growing demand and to improve display conditions for its art collection, are set for completion in 2013.
Private donations have so far helped Tate Britain raise £28.5m and director Penelope Curtis said they are confident the rest will be found.
"It's not as difficult [to raise the cash] as you might assume," she said.
Nine galleries in the southern and oldest part of the building will be renovated and new purpose-built learning spaces around the gallery will be developed.
'Exciting prospect'
For the first time since 1927, the upper level of the building will be opened up too.
"We will be able to see the historic site as something that's rather exciting," said Ms Curtis.
"At the moment, because of the conditions, we can't properly celebrate its architectural quality."
The inside of Tate Britain's Millbank entrance next to the Thames will also be given more prominence under the plans.
Tate director Sir Nicholas Serota said the project was a "very exciting prospect".
Tate Britain's visitor numbers have risen by 60% in the last 10 years.
Tate Britain opened to the public in 1897 after Henry Tate offered his art collection - along with a gallery to house it in - to the nation.
The news comes a month after it was announced in the government's Spending Review that the budget for arts would be cut.
The Arts Council - which distributes money to hundreds of arts venues, theatre groups and galleries - is to have its budget cut by 30%.