Benedict Cumberbatch gears up for Frankenstein role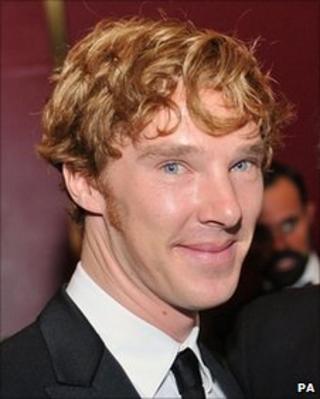 Actor Benedict Cumberbatch, who is due to begin rehearsals for a stage version of Frankenstein, says he feels in safe hands with Danny Boyle at the helm.
Boyle's Frankenstein will run from 5 February at the National Theatre with Cumberbatch and Jonny Lee Miller alternating the lead roles of Frankenstein and the Monster.
"I can't wait for the collaboration to begin," Cumberbatch told the BBC.
"I hope people get a lot of thrills and spills."
The new play has been adapted by Nick Dear from Mary Shelley's Gothic horror story, first published in 1818.
Asked how he felt about taking on he dual role, Cumberbatch said: "Pretty terrified, actually. I'm in a sort of fearless place, but I know the risks involved and it's quite a huge undertaking.
"But Danny has this ridiculously endless pool of energy which is constantly reinventive. If you look at his roster of work, it's so varied and extraordinary that I couldn't be in safer hands."
The star of TV's Sherlock said he was looking forward to working again at the National having appeared in Terence Rattigan's After the Dance in the summer.
"We hope it will have a life on Broadway at some point. It would be a great thing for an American audience to see," he said.
Box office pull
Cumberbatch has also been filming Steven Spielberg's War Horse, and is currently working on Tinker, Tailor, Soldier, Spy.
Both films are due out in 2011.
He will film a new series of Sherlock in the summer, with Martin Freeman reprising his role as Dr Watson.
Miller is best known for playing Sick Boy in Oscar winner Boyle's 1996 film Trainspotting. His stage work includes After Miss Julie and Festen. He was recently seen in the BBC's adaptation of Jane Austen's Emma.
"He's an extraordinary actor," Cumberbatch said. "It's going to be a really exciting rehearsal process. It's going to be quite mad because we're doing it side-by-side."
The 34-year-old actor added: "I imagine the box office pull of Danny Boyle and the story itself - and maybe Jonny and myself - is going to mean that ticket sales will be quite high.
"And I did play quite a famous detective for three nights in the summer which has seemed to have transformed things around me a little bit, and if that helps - terrific."