Harry Potter stays top of UK box office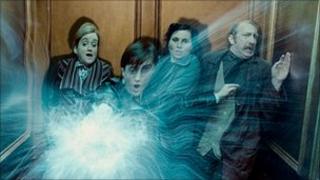 The latest Harry Potter movie held on to its place at the top of the UK box office for the second week running.
Harry Potter and the Deathly Hallows: Part 1 raked in £8.3m between Friday and Sunday, making more than five times as much as its nearest rival.
The highest new entry was Denzel Washington train thriller Unstoppable, which took £1.7m
Romantic drama London Boulevard was another new entry at number three, grossing £577,224.
The film stars Keira Knightley, Jamie Campbell Bower and Colin Farrell.
Half of the films in the UK top 10 were new entries, including The American, The Girl Who Kicked The Hornet's Nest and Machete.
Meanwhile, the Deathly Hallows raked in nearly $50m (£32m) over the Thanksgiving weekend in the US and Canada, ensuring it remained in pole position.
Close on its tail was a modern twist on the Rapunzel fairytale, Tangled, which made $48.7m (£31.2m).
The Disney 3D animation features the voice of Mandy Moore in the leading role.