John Waters: Now a model citizen?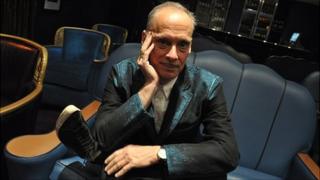 "Most people, when they think of role models, think they have to pick Gandhi, Martin Luther King," says cult movie maker John Waters.
His latest book, Role Models, is a self-portrait painted through stories about the people he himself admires, and includes Little Richard, Tennessee Williams, a convicted murderer, lesbian strippers and gay pornographers.
You may question some of his choices but then Waters - the man behind such films as Pink Flamingos, Cecil B.DeMented, and Hairspray - wants you to do just that.
He says the people he has interviewed and written about "have had extreme lives and have had to be braver than I have, to recover from something terrible in their lives, to deal with great success, which is sometimes just as hard.
"Everybody in the world could write this book, everybody's had a role model.
"Many of them are from when you're young because they're so strong. It's the first people in your life that you adapt as your own, that gives you the strength to become who you want to become."
Manson murders
Waters kicks off the book with a first-line declaration that he wishes he were legendary singer Johnny Mathis.
He reveals how Mathis told him that he never felt racial prejudice in his career, not even in 1950s America - possibly, Waters suggests, because many did not realise he was not white.
"My own mother asked 'Johnny Mathis is black?' after hearing I was meeting him," he says. "I couldn't believe she didn't know that. I'm not sure how many people did."
Also included is a section on Leslie Van Houten, a former member of the Charles Manson gang, who was convicted of taking part in the murder of Rosemary and Leno LaBianca in the US in 1969.
Waters uses her chapter to argue passionately for her release, citing her 40 years behind bars as a model prisoner, while never shrinking from the horror of her crimes.
"I state her case very clearly, but I do what no defence lawyer would ever do, which is bring up the most devastating things against her release.
"She's been turned down for parole again, after the book came out, for reasons that seemed to me to be weak, let's say it that way.
"She's still trying to get her Masters degree. I talked to her the day after the [parole] hearing, she was positive about the future, to continue trying, which to me is the reason she's my role model. I would be devastated. I wouldn't know what to do any more if I was her.
"They keep using the fact that the crime was so terrible, and she agrees, but she can't change that."
Fashion woes
Waters received some criticism for his support for Van Houten, but clearly it has washed over him. "[It] doesn't count to me, because you have to sign your name for it to be real. If you make an anonymous comment then I don't think it counts."
Waters believes that having role models, idols for people to look up to in society, is healthy.
"You need people to give you the freedom and encouragement to be whatever you want to be. If you want to be a doctor you read about one who overcame great difficulties.
"If you want to be a garbage man, I'm all for [that] - I'm really impressed when the garbage men recognise me in New York. Then I really feel famous. That's much more important to me than if a celebrity recognises me."
In his book, Waters describes his fashion style as "disaster at the dry cleaners" - for our meeting he sports a natty black Issey Miyake jacket which looks as though it's been partially sprayed with aquamarine paint.
He gives a chapter over to Rei Kawakubo, the "fashion dictator" behind the designer range Comme des Garcons, whose reviews of her clothes include "unwearable", "post-atomic" and "that shrunken, hopeless look".
While ill-fitting, damaged clothing is his thing, the man called the "Pope of Trash" and the "Prince of Puke" among other nicknames, is quick to mention fashion faux-pas.
"White people with gold chains was always a fashion blunder. Still is, unless you're a Nazi - a real one - or Jim Morrisson.
"Like leather pants [trousers]. They're a bad idea unless you're 15 and live in Berlin."
Waters also reveals in his book that he only trusts a certain brand of eyeliner pencil with which to bolster his moustache twice a day, that he has (and maintains) a "passion" for hitchhiking, and confesses to a fondness for weirdly striped socks.
He checks to see which type he has on today, and they are indeed fashioned from grey and black stripes.
'Filth elder'
Waters's writing hints at his own fragility beneath an enduring attraction to the odd, the outrageous and the marginalised, and says the subjects he has chosen gave him the self-belief necessary to allow his own personality to flourish when a young man.
"These people that I write about, they gave me the initial faith in myself to realise I'm never going to fit in - I never wanted to fit in.
"They showed me that there was another world you could live in with other people that did not want to fit in.
"I think the term outsider is so over used today. I think I'm an insider - look, I'm in a lovely hotel, I've got a book out, I'm on a book tour, it's not like I'm suffering.
"But I find that delightful, that somehow I've ended up an insider, when everybody today wants to be an outsider."
Waters describes himself less of a role model, more of a "filth elder" and says that young people, particularly those who attend his college tours in the US, seem to look up to him.
"I think I can be a role model to them - I have kids that say to me 'you saved my life' - but I don't mean that's anything heroic. I have been a role model to kids that wanted to rebel, the same as I did.
"[My films] gave them the freedom to not really care so much about what other people think."
Waters found great success with his film Hairspray, later made into a popular Broadway musical. For that, it seems, he will always be highly regarded by many who empathised with the lead character, a "pleasantly plump" woman who wins the heart of the man of her dreams.
"Fat girls always thank me, for making a fat girl a star of the show and getting the guy, which almost never happened before, and in real life, it almost never happens," he says.
As a result, he says, "fat girls always want to hug me at airports".
He may no longer consider himself an outsider, but Waters has lost none of his talent for horrifying some and delighting others - exactly the role model he wants to be.
Role Models is published by Beautiful Books on Thursday 2 December