Emmerdale producer Gavin Blyth dies at 41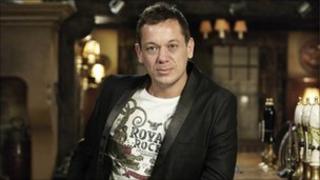 Gavin Blyth, the TV producer in charge of Emmerdale for the last two years, has died at the age of 41.
Mr Blyth, who was Emmerdale's series producer and had previously worked on Coronation Street, suffered a short illness, ITV said.
Emmerdale executive producer Steve November said he had "made an immense contribution" to the show.
"As a friend and colleague he will be missed an incredible amount by us all," he added.
Emmerdale is currently watched by around eight million people per episode and won three prizes at the TV Choice Awards in September.
Mr Blyth joined the soap in January 2009 and brought in actors such as Pauline Quirke, Father Ted star Frank Kelly and ex-Hear'Say singer Suzanne Shaw.
He oversaw storylines such as Aaron Livesy's sexual confusion, Mark Wylde's murder and a fire that will be seen devastating the fictional Yorkshire village in January.
An Emmerdale spokesperson said: "It is with great sadness that we confirm our series producer Gavin Blyth passed away on Friday after a short illness.
"Our thoughts are with his family, friends and colleagues at this terrible time. He will be greatly missed by us all.
"Gavin leaves his wife Suzy and children Tom, 15, Anya, 11, and Carter, aged one."
Emmerdale, formerly known as Emmerdale Farm, has been an ITV fixture since 1972.