Martin Freeman 'already fitted for Hobbit make-up'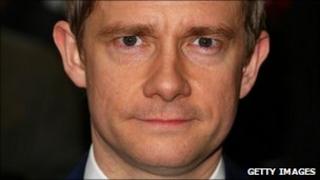 Actor Martin Freeman has been fitted for prosthetics to play Bilbo Baggins in The Hobbit, he has told the BBC.
"I've had wig, feet, ears," he revealed at the Evening Standard theatre awards on Sunday. "Full steam ahead for me to look like Bilbo."
Clybourne Park - in which Freeman starred - won best play at the event.
He said it was "really disappointing" he would not be able to perform in the West End transfer of the play because of his Hobbit commitments.
"In an actor's life, there are so many times you hear 'this will definitely go into the West End' - and it doesn't," he told the BBC news website.
"I've heard that so many times, and the one time I do have the West End transfer, I can't do it.
"It's for a lucky good reason that I can't do it," he continued. "But I will feel a bit of a pang of regret that I'm not with them, definitely."
Bruce Norris' play, which revolves around a Chicago house in the years 1959 and 2009, will open at the Wyndham's theatre in London in January.
Former EastEnders star Sophie Thompson and the rest of the original cast will reprise their roles in Dominic Cooke's acclaimed production.
Peter Jackson's two-part Lord of the Rings prequel The Hobbit is due to begin filming in New Zealand in February.
Freeman, best known as Tim in BBC sitcom The Office, was recently seen playing Watson opposite Benedict Cumberbatch's Sherlock Holmes.