Artist David Gledhill hunts exhibition stars
By Ian Youngs
Arts reporter, BBC News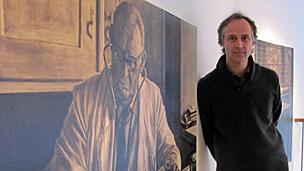 An artist is appealing to find a family who have become the unwitting stars of his latest exhibition.
David Gledhill has spent two years painting a German family using pictures from a 1950s photo album that was bought from a Frankfurt flea market.
The works are now on show at the Castlefield Gallery in Manchester.
"The natural result of this work is to find some of the living family members, to find out why this album ended up on a flea market table," Gledhill said.
According to the abum's inscriptions, he went on, it was put together by a doctor, Wilhelm Munscheid, for his daughter on her fifth wedding anniversary in 1957.
The pictures show family members, pets and scenes of the family home and their village, Teutschenthal, in eastern Germany.
"There must be people who remember this doctor," Gledhill told the BBC news website.
"The people in the album are larger than life. They're in the midst of family life, the doctor's just started to enjoy his retirement, he's got his family around him.
"It's so vividly alive, and yet so lost as an artefact. It's ended up with me, hundreds of miles away.
"I just thought I could strike a blow for every lost family album. I'm fighting back against the tide of time that desiccates everything and scatters it."
The artist believes the album may have ended up in the flea market as part of a house clearance following a family member's death.
He was drawn to the photographs because they provide a snapshot of ordinary people going about their lives in a country coming to terms with its Nazi past and the World War II defeat before coming under repressive Communist rule.
There is also the potentially thorny question of what role the doctor played during World War II and in the East German state.
Gledhill believes small clues hint at upheaval - chipped teeth beneath the smiles, for example, or a local swimming pool that appears full and idyllic in a pre-war postcard but cracked and derelict afterwards.
There is also a brief and mysterious reference to Dr Munscheid's "difficulties" during the war in a speech stuffed at the back of the album.
The photographs have "a haunted feel", Gledhill continued.
"When you understand the cataclysmic historical events that have happened prior to these photos being taken, you get the sense of these extremes of experience suppressed beneath this veneer of business as usual."
The aim of the paintings, he explained, was "to present the human face of political change".
But he is unsure whether the family, and the wider community, will want to be reminded about this period of history.
"I would hope that they'd receive it in a positive spirit, in that it's a faithful rendition of these images," he said.
"I come from a small semi-rural town myself, so I felt a particular empathy for that milieu and wanted to present it positively."
Gledhill's Doctor Munscheid paintings are part of a two-person show with Glasgow-based Corin Sworn, whose installation has been created using a set of photographic slides found in a skip.
The Manchester-based Gledhill said he would like to track down any surviving family members and was considering approaching local institutions who may be prepared to host the exhibition.
"The project will be completed by presenting the work to somebody - either older village people who remember the doctor or family members," he said.
"That would complete the circle. It's becoming a bit of an obsession now."
Related Internet Links
The BBC is not responsible for the content of external sites.